If you've always wanted to do a romantic photoshoot with your partner(s) – then you've come to the right place.
I love love and consider it an honor to capture it during a couple photoshoot. I am based in Amsterdam, but I'm flexible in terms of location, so I am happy to come to you!
It doesn't matter if you have experience in front of the camera or not. I have plenty of couples poses to try, but I also love to capture what makes your relationship unique.
How I Work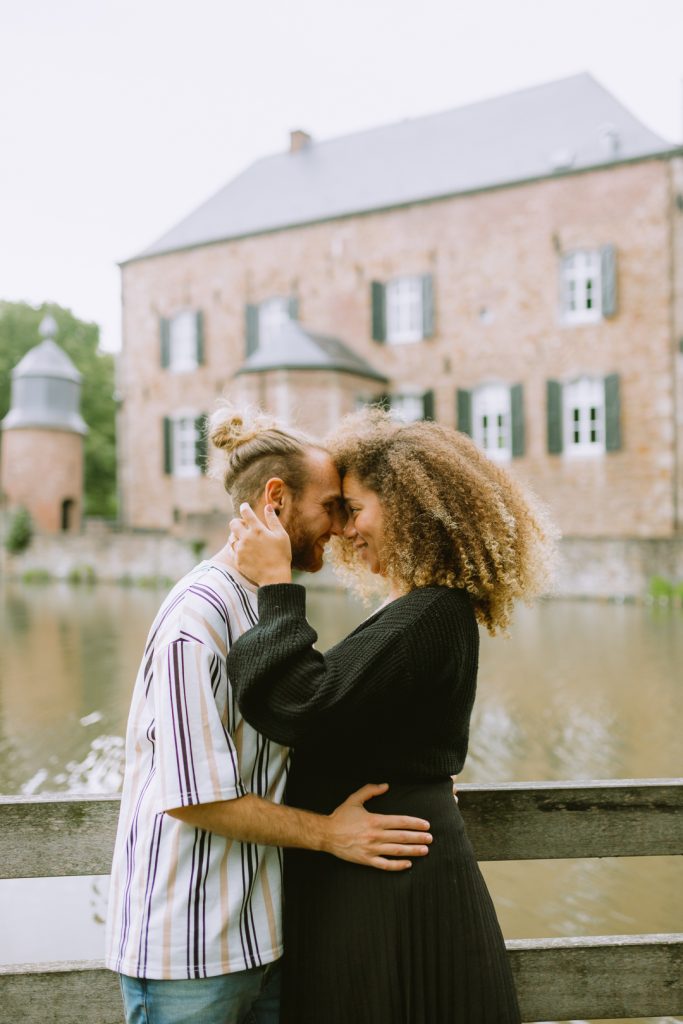 Before
Before the couple photoshoot we discuss your wishes via email or WhatsApp! If you agree with my terms & conditions and I know what you want, we set a date!
I will send you a payment link approximately one week before the photoshoot, which you'll pay before the photoshoot.
TIP! I'm often asked: what should I wear during a photoshoot? It's important that you wear something you feel comfortable in!

And that it 'matches' a bit. And I don't mean a twin-set, but outfits that look good together.

In addition, it's best to avoid distracting patterns or pieces with text, unless that's the focus of the photoshoot. Still in doubt? Bring an extra option!
During
During the couple photoshoot I will capture you at your best! It doesn't matter whether you have a lot of camera experience or not at all.
Based on what we discussed beforehand, I have a pretty good idea what you want and how we get that result.
I have enough ideas, but I also love hearing what you like! The most important thing is that you feel comfortable, so if there's anything you feel uncomfortable with, tell me!
During the couple photoshoot I will also show you the images I take, so if you want to retake anything – that's possible!
I love working on location, with natural light and as little 'stuffy' posing as possible. My imagery is colorful, happy and personal; just like me! Of course I will also give you tips during the photoshoot and make you feel at ease!
Want to book a solo photoshoot? Take a look at my portrait photography page!
After
After the couple photoshoot I will make a beautiful, big edited selection of photos. This selection will be available within a week, in an online gallery.
From this gallery, you can make a selection of photos according to your chosen package. It's also possible to purchase extra photos. When you've made your selection, I will make the amount of downloads available and you can download your selection.
The gallery will be available online for 6 months.
Pricing Couple Photoshoot
The packages below are for a couple shoot. Make it a throuple or family photo shoot for €20 extra!
€350
1 hour on location
30 high resolution photos, to select from an online gallery
€400
1.5 hours on location
45 high resolution photos, to select from an online gallery
€450
2 hours on location
60 high resolution photos, to select from an online gallery
Prices include VAT and travel costs up to 15 kilometers / 10 miles from Amsterdam. After that, I charge €0.35 per kilometer. Additional photos can be purchased later for €5 each.
Book a Couple Photoshoot
It's really easy, you let me know what you want and I will get back to you as soon as I can! Send me a message via WhatsApp or email.
Couples Portfolio
For more photos, check out my photoshoots portfolio.
Experiences
We nearly forgot about the camera was there, with a beautiful result as a result!
Karin & Karin
We were just glowing for hours afterwards. Our first professional shoot was a great experience.
Clay & Stéphane
We actually didn't have to do anything more than look at each other than being in love and do what we normally do. I love the pictures that now hang in our living room!
Meike & Isabelle
Note: Maartje Hensen has the right to use the taken photos in her portfolio / promotional purposes such as Facebook, blog, website, social media and possible competitions. If you do not want this, there is the option for a license upgrade. Let us know before the photo shoot, so that you will not be faced with surprises.
The general terms and conditions apply to all legal relationships of Maartje Hensen.